Chilean Folk Evening in Machynlleth.
A heart-warming evening of Chilean folk music will take place at the Glyndwr Institute in Machynlleth on Sat 8th December.
Chilean musician Alejandro Reyes will be accompanied by his son Pablo , playing the unusual and haunting rhythms of the Chilean countryside.
Alejandro was a member of legendary Chilean band Cuncumen together with the great Victor Jara . He recorded a song "Entonces Me Voy Volando " as a duet with Victor in 1958.
Victor Jara was a victim of the Pinochet coup of Sept 11th 1973 and is the inspiration for the " El Sueno Existe" [ the Dream Lives ] festival that takes place in Machynlleth.
Alejandro taught Victor an old folk song "Una Montana Oscura" [Dark Mountain ] the melody of which Victor used for the beautiful song " El Cigarito "
Wonderful Chilean folk singer Jorge Morales will be presenting some songs from his forthcoming CD: " Suenos De Mis Ninos" [ Dreams Of My Children ]
There will be a short theatrical presentation by Italian , Marta Pacini and some Welsh songs from Rhiain Bebb and Helen Pendry.
They will also be singing a song of Victor Jara's translated into Welsh by Dafydd Iwan called " Y Hawl I Fyw Mewn Rhydd" [ The Right To Live In Peace ]
Cristina Solana [and co] from the Canary Islands will be singing some songs by Cuban folk balladeer Silvio Rodriguez.
The evening kicks off at and tickets are £5. More info from Tony 01654702166 or www.elsuenoexiste.com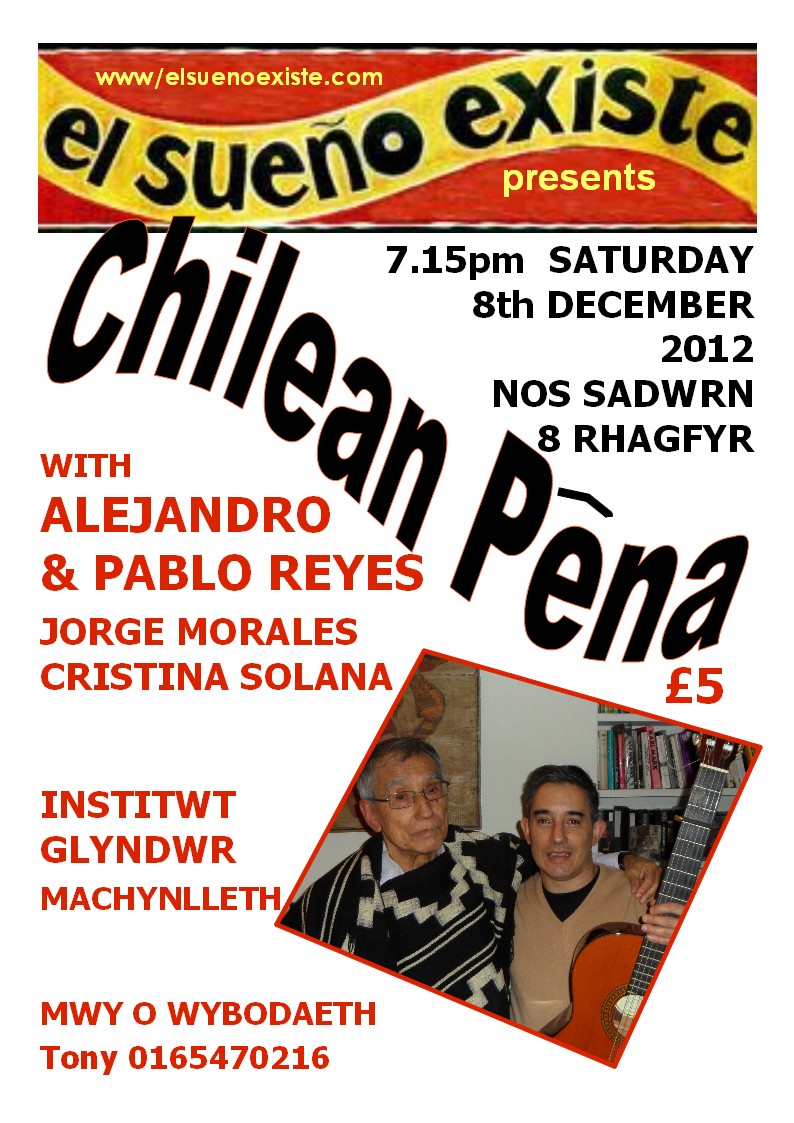 ---
---
Links to Other Sites:
Mind Out For Music, umbrella organisation of El Sueno Existe.
Video:
Click HERE to watch a 25 minute film about Chavez and the revolution in Venezuela